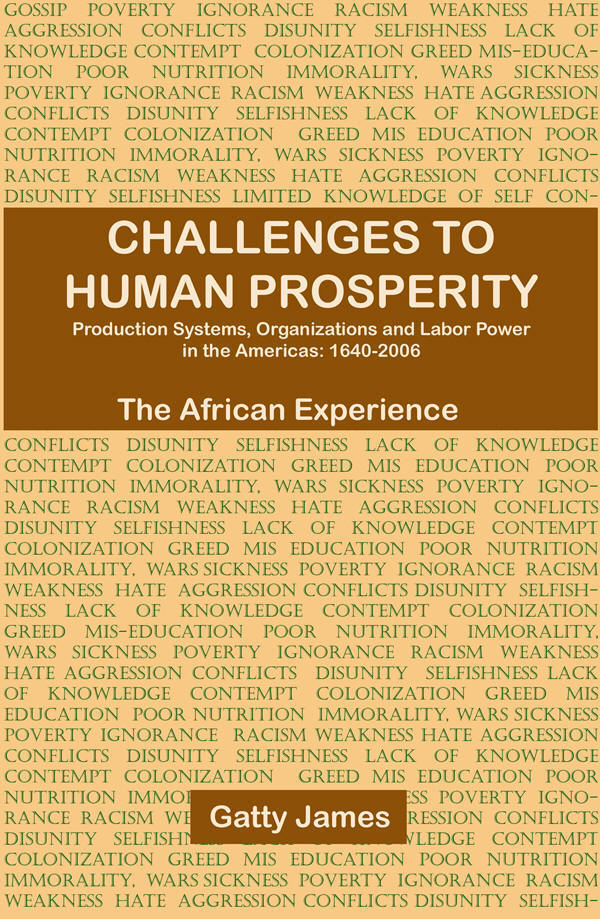 Challenges to Human Prosperity is a journey into the constant challenges that humans, organizations, systems of production and other socioeconomic forces pose to humans as they attempt to implement transformations processes in their environments. Unfortunately, throughout the world's history, many of the methods that these players implemented, which were designed to fulfill their own needs, have been utilized by others as instruments through which they could achieve positive transformations in the world.
Moreover, even as the self centered actions that have been mentioned in the last paragraph keep engendering negative transformations among the world's colonized, its dominant socioeconomic forces continue to promote such one size fits all methods as solutions to the problems that are encountered by all who abide in such a world. For the victims of this scheme, much of the poverty, hopelessness and negative conflicts that continuously rage in the villages, nations and other environments in which these entities abide can also be blamed on the foregoing dilemma.
Indeed, in the world's cycles of human development, the beneficiaries of the one size fit all schemes that have just been mentioned have been those who created such elements. The losers, on the other hand, have often been those who have sacrificed their God given capacities by which their self-reliance might have become possible for the false assurances that their false prophets have often bestowed on such victims. Unfortunately, this often became the basis of the wasted lives of poverty and marginalization to such victims became doomed.
The purpose for writing Challenges to Human Prosperity is to inform all humans, wherever they abide in the world to look beyond the false assurances through which many of its human and non human players may propel you to act for the greed and other negative motives by which such assurances may be driven. Once such elements are identified, test their sources for relevance to the methods that you ought to implement towards achieving your goals. Where such mechanisms are relevant, use them. Where they are not, call on the purveyors of such omens to incorporate your goals as part of their essences.
Ask the foregoing players to empathize, to see the essences of your kingdoms to your deliverance. Ask them to see the need for you to implement relevant methods that would lead to your mobilization of self-reliant acts towards building such entities. The author's prayer is that this enables you to enjoy good live qualities that ought to be the way of life of all of the world's peoples.